Commercial HVAC Repair Company Near Me


Competition for HVAC repair services is fierce in today's business world. Owners and managers understand the importance of reliable heating and cooling services. A dependable Commercial AC System is crucial for keeping employees and customers comfortable. Velocity Air Conditioning provides commercial HVAC repair services for businesses in Tampa Bay, Largo Fl, and nearby regions.
Commercial HVAC systems are complicated and if they stop working, it can be expensive and cause problems for businesses. It can make employees less productive and stop operations, which can have a big impact on profits. Fixing a 5-12 ton light commercial AC system needs a skilled technician.
Commercial HVAC Service
Commercial AC systems are more than just larger versions of the residential unit you have on your home. Instead, they have different parts that affect the cooling process in various ways, such as economizers, air units, and controls. The backend of these systems are complex, requiring a deeper set of skills and expertise.
Without the necessary skills, a repair team may temporarily fix your air conditioning, but it could stop working again. Experienced technicians with proper training ensure your system works well on hot and humid days.
Commercial technicians need to know more about the refrigeration cycle than residential technicians. Technicians must know how to repair economizers, refill air units, and handle commercial controls in all parts of a business. Businesses use commercial systems in all parts of their operations.
If your air conditioner stops working, you need a skilled commercial repair company to fix it fast. Our highly trained technicians will diagnose the issue and are prepared to make the necessary repairs. Our customers can feel at ease because we provide 24/7 emergency service. Additionally, they can always communicate with a real technician.
You want your technician to diagnose the problem with your cooling system correctly and fix it quickly. The HVAC technicians at Velocity Air Conditioning arrive prepared to fix nearly all commercial AC problems. Our team offers round-the-clock emergency repair services for commercial AC systems, ensuring prompt response whenever your system malfunctions.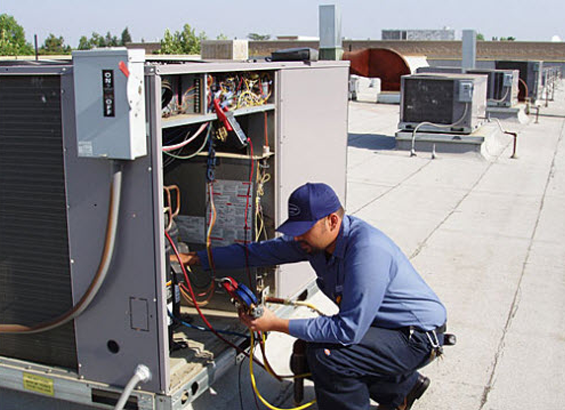 Commercial HVAC Services in Clearwater
For the best service on your commercial HVAC system, the repair and maintenance team should know it well. That's why the Velocity Air Conditioning team provides everything from design and installation to routine maintenance and repair.
Our technicians can work on any system in the Tampa Bay Area, even if another team didn't design it. Our service ensures your system can handle the hot and humid Florida summers without any concerns. Instead, you can unwind and have the liberty to concentrate on important tasks, such as managing and expanding your business.
Why Choose Velocity Air Conditioning
You depend on the company you partner with to keep your business cool to be both trained and experienced. Bill Snyder is an experienced HVAC veteran. He leads the Velocity Air Conditioning team. The team has over 10 years of expertise in servicing top-notch systems.
He founded Velocity Air Conditioning services to offer great heating and cooling service in Tampa and Saint Petersburg. Velocity Air Conditioning team offers fair prices and maintains high integrity by not compromising quality for short-term savings.
Velocity Air Conditioning is a family business that provides friendly service with the expertise of trained professionals. We can meet all your commercial property needs and give you advice on how to maximize your system's potential. Please call (813) 370-0299 to book your commercial AC repair or maintenance service call with Velocity Air Conditioning's expert technicians today.
Special Offers
Quality service at a bit of a discount.