Commercial HVAC Maintenance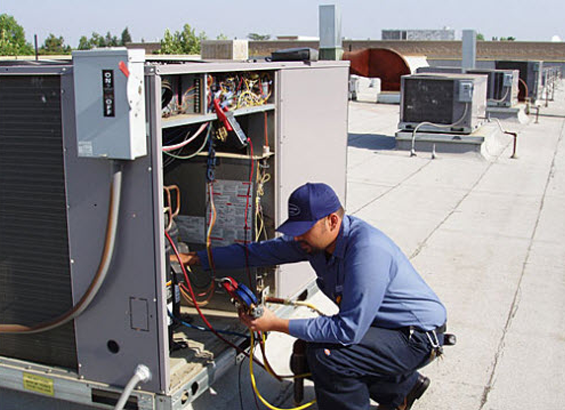 HVAC Maintenance can be a big part of your business's effective temperature control to continue producing and growing. Whether you produce goods, offer services, or have a retail establishment, without your HVAC system, your team is uncomfortable and loses productivity. Add to that, your products and equipment may be temperature sensitive, so keeping your system running reliably is more than about comfort and convenience.
Maintaining your system professionally is imperative to keeping your system up and running. As an HVAC system runs, it collects dust and dirt, and will slowly lose its optimization through its many components. Inevitably, this leads to system downtime. Maintaining your system avoids unpredictable breakdowns while optimizing its performance during non-peak hours.
Velocity Air Conditioning offers expert commercial heating and cooling service from technicians with both professional training and years of experience. Call today to sign up for a commercial HVAC maintenance plan today.
Benefits of Routine HVAC Maintenance
Properly maintaining your commercial equipment is critical to avoiding extended downtime, and the same is true for your heating and air conditioning equipment. There are a host of benefits you'll experience when you stay on top of your system's needs.
First, you'll experience a drop in your heating and cooling expenses. One of the goals of maintaining your commercial heating and air conditioning is to keep the system running efficiently. This is achieved by keeping the system clean and tuning the components to run optimally.
Improved efficiency leads to reduced operational stress. Less stress means less wear on each component, reducing the number of repairs required throughout the system's service life. This also means you won't worry as much about the system breaking down, but will enjoy better heating and cooling reliability.
Less stress on the system means everything lasts longer. This extends the service life of your heating and cooling system, reducing your annualized equipment expenses.
Spring & Summer Maintenance
There's a difference between the work to maintain your system over the warmer months versus the cooler months. Being it's warmer for longer in Florida, let's first focus on what tuning-up your air conditioning includes.
The most important aspect of tuning-up your system for the spring and summer is changing your air filters regularly. Depending on your space's air quality, you may need to replace air filters as regularly as every month, though most businesses get several months on a single set. Plan to have your filters checked regularly and replaced as soon as they are visibly dirty.
After air filters, Velocity Air starts with a visible inspection of your system's components. Damage from flying debris can indicate further problems, so you want to start at the front end. In addition to physical damage, your technician will check for signs of corrosion, visible signs of electrical faults, disconnected pipes, and other visible damage.
It's important to check and clear the system's drain lines and condensate collection trays. As the system runs and condenses moisture from the air, it becomes a breeding ground for bacteria, algae, and mold. All of this can also eventually clog your drain lines, causing condensate damage in your building.
Your technician also needs to shut down the system and clean both the condensing and evaporator coils. Both will collect contaminants as the system runs, reducing the air flowing through the system and its effectiveness at transferring heat.
Finally, your technician will test the entire system for any signs of suboptimal performance. This includes testing the various fans in your system, testing electrical control components, testing the control unit, and checking the level of refrigerant in the system.
Fall & Winter HVAC Maintenance
Fall and winter tune-ups are very similar to what you see during the spring and summer, except that it focuses on your business's heating system. The technician will perform the same level of visual inspection, cleaning, and testing for all the common components.
They'll also look at your particular heating system for unique maintenance tasks. This may include inspecting and cleaning the burners, and heat exchanger. It also includes testing the various safeties and lockouts on your heating system to ensure it runs safely.
Tampa Bay's Commercial HVAC Partner of Choice
When it comes to maintaining your commercial heating and cooling system, it sometimes feels like you either have to pay a premium or deal with sub-par service. When Bill Snyder started Velocity Air Conditioning, it was with the idea of providing superior heating and cooling services at a fair price. The entire team is dedicated to providing service with integrity so that you always get the best value for your service.
Velocity Air Conditioning is a family owned and operated company, based right here in Clearwater. This location puts our team in the perfect place to serve all of Pinellas and Hillsborough counties. Whether your business is in Clearwater, Saint Petersburg, Dunedin, Lutz, or Tampa our team is close enough to keep your system up, avoiding heating and air conditioning downtime.
When you work with the Velocity Air Conditioning team, you don't have to remember to schedule your maintenance. Rather, our team will keep track of when your system is due, and will call you to schedule your service during non-peak hours. Call (813) 370-0299 to schedule your commercial HVAC maintenance with the expert technicians at Velocity Air Conditioning today.
Special Offers
Quality service at a bit of a discount.