Commercial HVAC Replacement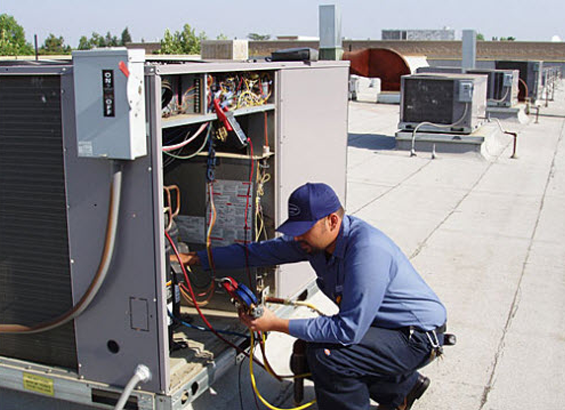 Commercial HVAC installation requires a unique skill set among HVAC professionals to not only install a system, but engineer the proper infrastructure to support it. Your business depends on having the properly sized HVAC system running to effectively heat and cool your commercial building.
Improperly sized or installed HVAC systems experience excessive system strain, increased operational costs, and faster component wear. Inevitably, this leads to shorter system service life, and faster HVAC replacement.
The Velocity Air Conditioning team are experts at commercial HVAC installation and replacement. Our expert technicians not only have professional training, but the years of experience to back up our ability to meet your business's heating and cooling needs. Call today to schedule your on-site consultation with one of our commercial HVAC installers.
Commercial HVAC Installation
HVAC replacement or installation starts with determining the right system for your particular building's needs. Unlike residential HVAC, there are numerous types of systems that provide both heating and cooling.
The most basic are the packaged terminal systems that include a compressor, condenser, evaporator, and fan coil. These are often deployed where various end users need more control over the temperature in their space.
Rooftop packaged systems include the compressor, condenser, and an evaporator and blower. They utilize ductwork to carry your conditioned air throughout your building. Similar to packaged systems are split systems that utilize smaller units that individually condition different areas around your building.
The VRF system is a newer technology in the Unites States that uses a central outdoor unit and smaller air handling units, similar to a residential ductless system. These allow substantial customizability over the temperature throughout your building.
Determining the right system for your application goes beyond the project budget. Rather, it also requires evaluating the amount of granular control you need over various areas of your building and different size spaces in the different areas around the building. The experts at Velocity Air Conditioning know how to evaluate the variables affecting which system may be right and offer the most cost-effective solutions both at install and for running the system.
Commercial HVAC Replacement Services
Most businesses around the Tampa Bay area need an HVAC replacement about every 10 to 12 years. When it's time to replace the system, part of the choice to consider is whether to simply replace your system with something similar, or to install an upgrade.
In most cases, you won't change from a ducted to a ductless system or vice versa. That helps limit the options, though the question still remains about how to upgrade your system. With better technology in the commercial HVAC space comes less operational expense and better reliability, both improving your business's bottom line. Therefore, it's important to carefully consider upgrade options available that match your current needs.
Commercial HVAC Services in Clearwater
Indoor Air Quality Management
In addition to your primary heating and cooling, consider your business's air quality during your next HVAC replacement or system installation. More effective air quality management has taken center stage recently, and can have a direct impact on your business's employees health. Consider investing in system-wide upgrades to help improve your business's air quality.
Some of the most popular upgrades include additional filtration, like HEPA filter additions. Also, air purifiers, like in-system UV light purifiers, have become a central focus for keeping everyone healthier, reducing illness-related absenteeism.
HVAC System Controls
Your system's controls are just as important as the larger system components themselves. If your control unit isn't up to the job of initializing the various components of your commercial HVAC system at the right times, you'll experience the same symptoms of a malfunctioning system.
Velocity Air Conditioning's team are experienced with a wide variety of commercial HVAC system controls. HVAC replacement also means evaluating your control unit, and likely upgrading that as well. Our team will help you identify the best control unit to compliment your new system components.
Ductwork Installation
With many commercial HVAC installations also comes installing ductwork. Commercial ductwork installation requires more than assembling the right pieces, but often requires special fabrication to meet your business's needs. It also requires a profound understanding of air dynamics to ensure your system creates the proper circulation to effectively heat and cool your building.
The Velocity Air Conditioning team are experts in all these areas. Our extensive experience allows us to engineer a truly customized HVAC system for your building, rather than trying to fit your building to a prefabricated system.
Trusted HVAC Installation and Replacement
You want to know that when you have a commercial HVAC system installed or replaced that the company will be around to service the system for years to come. You would also like to know they will be responsive, working to minimize business interruptions due to HVAC system downtime. These are the reasons businesses around Pinellas and Hillsborough counties turn to Velocity Air Conditioning.
When founding Velocity Air Conditioning, Bill Snyder had a vision of providing superior HVAC services at a fair price. This turned into a driving passion behind everything the Velocity team does, maintaining the highest integrity in everything we do.
Velocity Air Conditioning is a family owned and operated provider, headquartered right here in Clearwater. Call (813) 370-0299 to schedule your free on-site consultation to discuss your business's HVAC needs to help you continue growing.
Special Offers
Quality service at a bit of a discount.