Commercial HVAC Replacement Near Me


Installing commercial HVAC systems requires skilled professionals who can not only install the cooling system but also design the necessary infrastructure. Your business depends on having the properly sized HVAC system running to effectively heat and cool your commercial building. If your company hasn't kept up with preventative maintenance for your HVAC system, it may need replacement.
Improperly sized or installed heat and air systems experience excessive system strain, increased operational costs, and faster component wear. Inevitably, this leads to shorter system service life, and faster HVAC replacement.
The Velocity Air Conditioning team are HVAC company experts at commercial heating and air conditioning service installation and replacement. Our skilled technicians have the training and experience to meet your business's heating and cooling needs effectively. Call today to schedule your on-site consultation for repair services with one of our commercial HVAC installers.
Commercial HVAC Installation
HVAC replacement or installation starts with determining the right system for your particular building's needs. Unlike residential HVAC, there are numerous types of systems that provide both heating and cooling.
The most basic are the packaged terminal systems that include a compressor, condenser, evaporator, and fan coil. Various end users often deploy these where they need more control over the temperature in their space.
Rooftop packaged systems include the compressor, condenser, and an evaporator and blower. They utilize ductwork to carry your conditioned air throughout your building. Similar to packaged systems are split systems that utilize smaller units that individually condition different areas around your building.
The VRF system is a new technology in the US. It uses a central outdoor unit and smaller air handling units. It is similar to a residential ductless system. These allow substantial customizability over the temperature throughout your building.
Picking the correct system means thinking about control needs and space sizes. Velocity Air Conditioning can assist with evaluation and affordable solutions.
Commercial HVAC Replacement Services
Most businesses around the Tampa Bay and Largo FL area need an HVAC replacement about every 10 to 12 years. When you need to replace your cooling equipment, you can choose to either get a similar one or upgrade it.
Typically, you don't switch from ducted to ductless systems, but the issue of upgrading still arises. Better technology in commercial HVAC lowers costs and improves reliability, helping your business financially. So, it's important to think about upgrade choices that fit your current needs.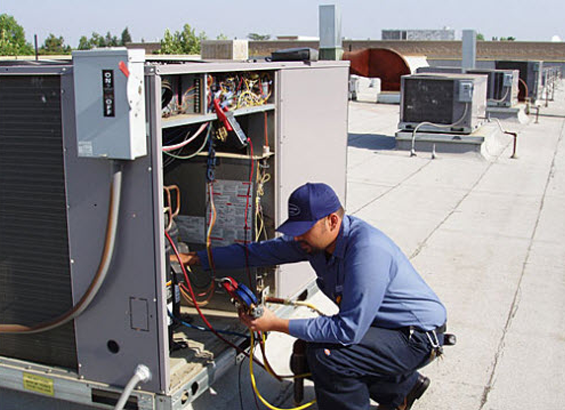 Commercial HVAC Services in Clearwater
Indoor Air Quality Management
When replacing or installing your HVAC system, also think about the air quality in your business. Better air quality management is important and can directly affect the health of your employees and business. Consider investing in system-wide upgrades to help improve your business's air quality.
Some of the most popular upgrades include additional filtration, like HEPA filter additions. Air purifiers, such as UV light purifiers, are important for improving health and reducing sickness-related absences.
HVAC System Controls
The controls in your system are super important, just like the big parts of the system. Think about a scenario where your TV remote control is malfunctioning – it would be challenging to enjoy your preferred programs. This is comparable to a commercial HVAC system.
If the control unit doesn't work properly, your HVAC system may malfunction. For example, if it fails to start or stop things at the right times, issues may arise. An illustration of this is a malfunctioning remote for the HVAC system.
At Velocity Air Conditioning, we are experts in replacing your commercial HVAC control systems. When getting a new HVAC system, consider upgrading the control unit for smooth operation. Our team can help you figure out the best control unit to go with your new system parts.
Ductwork Installation
With many commercial HVAC installations also comes installing ductwork. Commercial ductwork installation requires more than assembling the right pieces, but often requires special fabrication to meet your business's needs. You need to understand air dynamics to make sure your system circulates air properly for heating and cooling your building.
The Velocity Air Conditioning team are experts in all these areas. We have extensive experience in creating personalized HVAC systems for buildings. Instead of using a pre-made system, we can tailor the HVAC system specifically for your building.
Trusted HVAC Installation and Replacement
If you have a commercial HVAC system installed or replaced, ensure that the company will be available for future servicing. You want them to be proactive and minimize disruptions caused by HVAC system outages. That's why businesses in Pinellas and Hillsborough counties and surrounding areas choose Velocity Air Conditioning.
When founding Velocity Air Conditioning, Bill Snyder had a vision of providing superior HVAC services at a fair price. This turned into a driving passion behind everything the Velocity team does, maintaining the highest integrity in everything we do.
Velocity Air Conditioning is a family owned and operated provider, headquartered right here in Clearwater. Dial (813) 370-0299 to arrange a complimentary consultation to discuss your company's HVAC requirements and continue to expand.
Special Offers
Quality service at a bit of a discount.