Commercial HVAC Services Near Me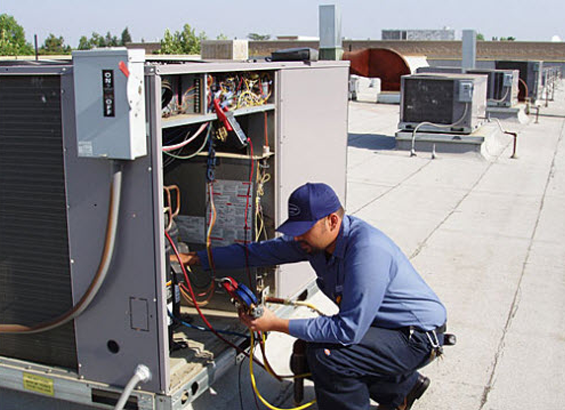 As a business, you rely on your commercial HVAC system to make your business succeed. Without it, your employees are uncomfortable and less productive, and your customers avoid coming to your location to do business. Depending on your business, heat can harm sensitive equipment or products.
We special in commercial air conditioning repair and service for multiple brands including: Trane, Carrier and Lennox. Our service is available seven days a week.
If your business's AC is freezing, it may not be working properly, but we can provide same-day repair.
Some customers have there compressor quit working on their commercial hvac system or the fan stops spinning. If this is the case, we offer temporary commercial air conditioners to help keep your business cool until the parts arrive.
Commercial HVAC systems are complicated and need skilled technicians to diagnose, fix, and maintain them. Velocity Air Conditioning has experts who provide this service to businesses in the Tampa Bay area.
Commercial AC systems are not just bigger versions of residential units. They have different parts like economizers, air units, and controls that affect cooling in different ways. The backend of these systems is complex and requires more skills and expertise.
If the repair team lacks the necessary skills, they may temporarily fix your air conditioning. However, there is a possibility that it could stop working again. Experienced technicians with proper training ensure your system works well on hot and humid days.
You want your technician to diagnose the problem correctly and fix it quickly. The technicians at Velocity Air Conditioning arrive prepared to fix nearly all commercial AC problems. Our team offers round-the-clock emergency repair services for commercial AC systems, ensuring prompt response whenever your system malfunctions.
Sizing and installing a commercial AC is not as simple as selecting the properly sized unit and running your refrigeration lines. Rather, you have to consider numerous variables unique to a commercial application. This includes when your system will run, the number of occupants in the building, heat generating equipment you run, and more.
Commercial HVAC companies like Velocity Air Conditioning customize systems to meet specific needs, ensuring consistent cool air delivery.
The rest of the system can waste a significant amount of energy. This is in addition to the engineering and installation of the main cooling equipment.
Our team focuses on the quality of your ducting system. We ensure that all ductwork is intact and free from damage. We seal the ducts to make sure the cool air goes where your business needs it.
The key to consistency with your commercial HVAC system is preventative maintenance. Its performance will slowly deteriorate unless you complete the right maintenance tasks on schedule, just like any other mechanical system.
Keeping your system well-maintained helps reduce your operational costs. First, it keeps your heating and cooling system running efficiently, reducing your monthly cooling expenses.
With improved efficiency comes reduced system strain. This extends the mechanical life of your air conditioning system. Maintenance also identifies problems early, allowing our technicians to resolve them before they cause any system downtime.
Technicians will perform maintenance at your business during off-peak hours, including changing filters and testing components. They will also schedule visits for you.
Commercial HVAC Services in Clearwater
For the best service on your commercial HVAC system, the repair and maintenance team should know it well. That's why the Velocity Air Conditioning team provides everything from design and installation to routine maintenance and repair.
Our technicians can work on any system in the Tampa Bay Area, even if another team didn't design it. Our service ensures your system can handle the hot and humid Florida summers without any concerns. Instead, you can unwind and have the liberty to concentrate on important tasks, such as managing and expanding your business.
Why Choose Velocity Air Conditioning
You depend on the company you partner with to keep your business cool to be both trained and experienced. Bill Snyder is an experienced HVAC veteran. He leads the Velocity Air Conditioning team. The team has over 10 years of expertise in servicing top-notch systems.
He founded Velocity Air Conditioning to offer excellent heating and cooling service in Tampa and Saint Petersburg. Velocity Air Conditioning team offers fair prices and maintains high integrity by not compromising quality for short-term savings.
Velocity Air Conditioning is a family-run business. We provide service like a trusted friend. We also have the knowledge of experienced professionals.
We can help with all your commercial property needs. Additionally, we can give advice on how to make your system work better. We can assist with your business property requirements and offer guidance on improving your system. Call (813) 370-0299 now to schedule commercial AC repair or maintenance with a skilled technician from Velocity Air Conditioning.
Special Offers
Quality service at a bit of a discount.